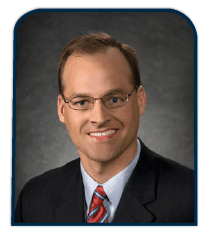 Orthopaedic Surgery | Total Joint Replacements
Dr. Koch performs many procedures at Saunders Medical Center including but not limited to:
     Total Joint Replacements | Shoulder and Knee scopes
     Arthroscopic Surgery |  Sports Medicine
     Rotator Cuff Repair | Minor amputations
     Carpal Tunnel Repair | And Much More!
Dr. Koch's has performed over 18,000 surgical procedures.
Dr. Douglas Koch is a native of DeWitt, Nebraska. He is a graduate of the University of Nebraska Medical Center and completed his residency in Orthopaedic Surgery at the University of Tennessee-Campbell Clinic, in Memphis, Tennessee.
Dr. Koch is a member of the American Academy of Orthopaedic Surgeons and is board certified in Orthopaedic Surgery and completed a Sports Medicine Fellowship in Phoenix, Arizona, at the Institute for Bone and Joint Disorders and SCG Orthopaedic Clinic. 
Dr. Koch and Sam Dostal, PA are from Nebraska Orthopaedic Center and come to SMC on a weekly basis. Dr. Koch is currently performing surgeries such as, but not limited to: Total Joint Replacements, Knee Arthroscopy, Shoulder Arthroscopy, Carpal Tunnel Repair, Trigger Finger Release, and many other procedures.  
In Clinic Dr. Koch and Sam do a variety of steroids and other injections, casting, and other slings and brace devices.
Dr. Koch is married and has two sons.  His hobbies include hunting, golfing, snow skiing, and spending time with his family. He now serves as Team Physician for the Wesleyan Prairie Wolves, Lincoln Saltdogs and the Lincoln Stars.
SCHEDULE
To schedule with Dr. Koch, please call Saunders Medical Center at 402 443-4191.