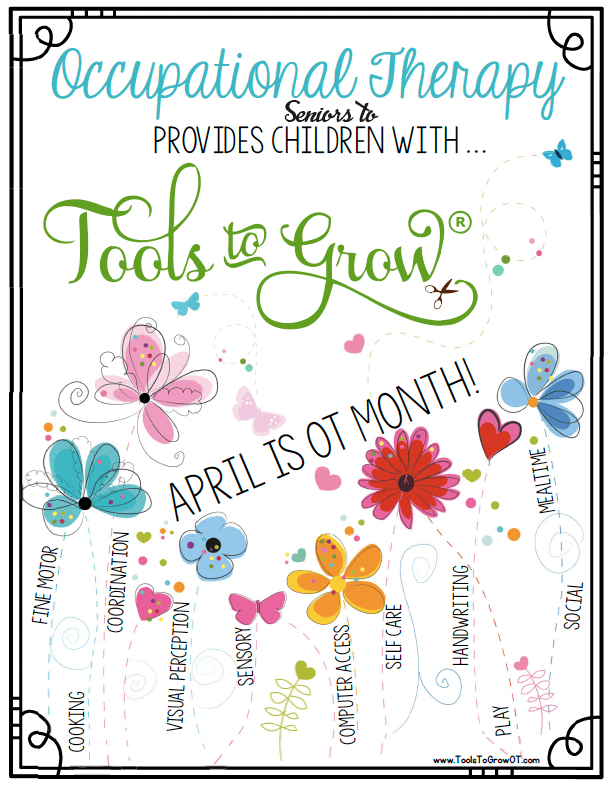 How can an Occupational Therapist Help you?
Occupational Therapy Provides you with the tools to Grow!
• Occupational Therapists are highly trained healthcare professionals that evaluate and assist children to seniors that are having difficulty participating in meaningful activities that are needed for their daily routines. 
• In schools, Occupational Therapists address the needs of students experiencing delays, disabilities, or health challenges through therapeutic intervention to promote skill advancement, the use of compensatory strategies, adaptations to the child's equipment and environment, and/or modifying the curriculum or activity. They also collaborate with teachers, parents, and others to identify and modify barriers that restrict a child's success.
• In the home, Occupational Therapists identify needs to assist in daily living skills—from cooking to shaving, from self-care to dressing...they will work with patients to help them achieve their goals. The tools, methods and exercises they utilize will help seniors to children get around their home the best they can!
Source | Tools to Grow | Free Resources
Occupational Therapists will work with you to come up with a therapy plan and set goals designed for your needs, disability, or limits. Your OT can train you to adapt your movements, improve your motor skills or hand-eye coordination, or do tasks in new ways.
Your OT may:
Prescribe and train you to use assistive devices like raised toilet seats or wheelchairs
Teach you new ways to button a shirt, tie your shoes, get in and out of the shower, or work on your computer
Help older adults prevent falls in their home or in public areas
Treat adults who've had a stroke to improve balance, change their home to prevent injuries, build muscle strength, or adapt to their memory or speech problems
Organize your medications or household tools
Address behavior problems in kids who act out or hit others
Build hand-eye coordination so you can hit a tennis ball
Work on motor skills so you can grasp a pencil
Who Needs Occupational Therapy?
Just about anyone who struggles to do any kind of task may need it.
If you have one of these health problems, ask your provider if OT could help you:
Arthritis and chronic pain
Stroke
Brain injury
Joint replacement
Spinal cord injury
Low vision
Alzheimer's disease
Poor balance
Cancer
Diabetes
Multiple sclerosis
Cerebral palsy
Mental health or behavior issues
It can also help kids with birth defects, ADHD, juvenile arthritis, autism, or severe injuries or burns.