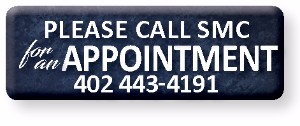 Contact our front desk at 402 443-4191 during regular business hours. 
If you have an emergency, please call 911.
---
Have Health Questions AFTER HOURS?
Simply call the after hours SMC Care Line (see right) from 5pm-7am Monday-Friday and 24 hours on Saturday and Sunday. This service is available to SMC patients and employees. 
Staffed by nurses to help...
answer health questions
provide medical advice
schedule appointments
make referrals as needed
Getting you back to your best, FASTER!
---
Location
We are located in Wahoo, Nebraska on Highway 77. Turn west on J Street for the entrance. 
Admissions is just inside the main doors of Saunders Medical Center on your right.  
If this is an emergency, the emergency entrance is on the west side of the campus. 
Walk through the doors and you'll see our smiling faces ready to greet you!
Department Directory
| | |
| --- | --- |
| MAIN LINE | 402 443-4191 |
| Clinic, Wahoo Family | 402 443-4191 |
| Cardiac/Pulmonary Rehab | 402 443-1426 |
| Care Center, Long Term | 402 443-4685 |
| Community Outreach | 402 443-1427 |
| Human Resources | 402 443-1409 |
| Diagnostics/Imaging | 402 443-1424 |
| Laboratory | 402 443-1474 |
| Mammography | 402 443-4191 |
| Medical Records | 402 443-1421 |
| MS Clinic | 402 443-1456 |
| Patient Accounts | 402 443-1414 |
| Pharmacy | 402 443-1630 |
| Quality Assurance - Compliance Hotline | 402 443-1429 |
| Sleep Studies | 402 443-1426 |
| Specialists/Visiting Doctors | 402 443-4191 |
| Surgery | 402 443-4191 |
| The EDGE (Sports Training) | 402 443-1452 |
| Therapy (OT, PT, Pediatric, Womens, Speech) | 402 443-1426 |
| Wellness (Community Gym) | 402 443-1452 |