Tragedy, Hope & Determination
SMC's Therapy Department helps Local Resident Heal
After moving from Valparaiso to a home in Wahoo, Barb Rezac awoke in the middle of the night and headed to the bathroom. Unfortunately, she had not yet grown accustomed to the layout of the home and opened a door she thought led to the bathroom. Instead, she opened a door that led to the basement.
Here is her story in her own words—
"I fell down a flight of stairs and broke my neck on July 14, 2021. I yelled until I didn't have a voice. My husband heard me! I was taken by ambulance to Bryan West Hospital in Lincoln.  I had to wait and lie completely still for about 24 hours because the surgeon was busy. Miraculously, I remained calm and determined. Finally, they operated on my neck/spine. Total paralysis was a possibility because of the location of the injury.

Barb thought, "Paralysis? Seriously? I was a healthy 60-year-old. I am a seamstress. I had grandchildren I needed to hold! How was I going to do this?" 

After surgery, there was a glimmer of hope! Barb recounted: They felt I was going to walk again!

I have so many people to thank and give credit to. I know God guided me. Many people prayed for me. I felt lifted up in prayer. Masses of healing were offered. God's power was there. This seemed like an impossible feat. Yet, it seemed like God gave me the strength to be positive and know I could walk again."

Choosing SMC's Therapy
Barb was transferred and received outpatient therapy where she was able to gain strength and walk using assistive technologies. They needed a change and thought about Omaha, but it was quite a drive. Ultimately, Barb chose Saunders Medical Center's Edge Therapy & Wellness in Wahoo. Besides taking just minutes to get there, it was an exceptional experience.
When I came to SMC's Edge Therapy & Wellness on September 24, 2021, I was in a wheelchair and couldn't stand up. I had a catheter.

Ali Meyer has an attitude that motivates you and makes you feel like I can do this.  She took away that hopeless attitude. She was my new therapist. It would have been very easy to feel sorry for myself. When I felt like giving up, I switched my thoughts and was determined to get well. Ali supported my attitude of determination. It was slow, but I could see progress. 

I never said no when she challenged me to try something new. It was baby steps, but we got there!

Ali is a very friendly and caring therapist—she knows the names of my kids and grandkids. The fact that they took me from my wheelchair and being scared to stand up, to now where I can walk around my house comfortably is a miracle.

My husband took me to my appointments. Ali gave us homework. It all sounded scary at first, but I then progressed to a walker. I used that for quite a while. They used a gait belt and eventually no walker. 

Eight laps around the hospital was my record! After that, I could tell my balance was back. They taught me how to use a four-post cane. It was a slow process, but I was walking again! 

Soon I began climbing stairs to gain access to my kitchen, sewing, and bedroom. Now I could cook, sew and sleep in my own bed again!

I am mighty thankful to be where I am physically. I accept God's will, but I credit all my recovery to the prayers answered and my experience at SMC.

Besides Ali, I also worked with another super therapist: Nick Breunig. I would recommend anyone from the SMC team! Ali and Nick were a great part of the team for my recovery. They helped maintain my positive attitude during this very difficult situation.

I was released in the Fall of 2022. I continue to exercise several times per week at home and at SMC. I am independent at home and in the community. 
---
Thank God for my dear husband and family.
"Another person who helped my healing was Dave—my husband of 36 years. He was invaluable in my recovery because of the amount and dedication he had. From operating a lift allowing me to sit down, to helping me with every move. He is truly living out the better for worse, in sickness and health vows. We never dreamed of this challenge, but I saw him exceptionally stick to these vows. I love him with my whole heart!

My family was very supportive. We had a wheelchair ramp added and rearranged our home to accommodate my needs. I am forever grateful for all they did for me. 
---
Final Reflections From Barb
"I truly believe in the power of prayer. It brought me back from paralysis.

If you live in this area and need therapy, there is no need to travel a long distance. They have an excellent program here in Wahoo. Short travel time, I have worked with all of the therapists—they are ALL very friendly and know me by name. I always tell everyone I wouldn't be where I am today without the SMC therapy team."
—Barb Rezac

Resident of Wahoo, Nebraska
Graduate of Saunders Medical Center's Therapy & Wellness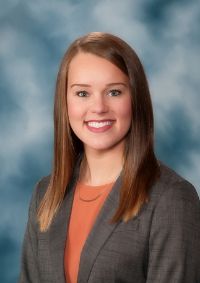 Through the Eyes of Her Physical Therapist
After falling down a flight of stairs in July 2021, Barb badly injured her neck and immediately felt weakness in all four extremities.  Upon examination at Bryan Hospital she was found to have a C6 vertebral fracture with spinal cord edema in the C6-C7 region.  She then underwent a cervical discectomy and fusion to remove pressure on the spinal cord.  Her initial neurologic examination showed impaired sensation in both arms and legs, weakness in both hands, completely paralyzed left leg, and weakness in the right leg.  Her condition was diagnosed as an incomplete C6 spinal cord injury consistent with central cord syndrome.
The first day I met Barb in late September 2021 she was wheelchair-bound, required a Hoyer lift for bed and bathroom transfers in her home, and had a foley catheter in place.  Barb was confined to her main floor, unable to access her kitchen, bedroom, or sewing room due to multiple flights of stairs to reach these areas. But no matter the odds she had against her, from that very first day Barb made it a point to never feel sorry for herself, motivated to overcome her odds and get her life and independence back.
And she did just that.  Within a matter of eight weeks, Barb no longer required the Hoyer lift, was climbing stairs, walking with a walker, and had the catheter removed.  Bound and determined would be an understatement. 
Now, over a year later, we are still seeing her as she continues to make progress with her functional strength and independence.  She is completely independent, now able to walk longer distances without any assistive device, cooks large family meals, carries items up and down stairs, vacuums, mops, drives, and shops on her own, can get on and off the floor independently, and exercises at least three times per week. 
It has been such a joy to witness Barb reach and surpass her goals, and watch her quality of life improving each week.  Spinal cord injuries are one of those conditions that you just never know what functions will return or what deficits you'll be left with after the recovery process—different for each and every individual.  But, as Barb knew with the advice of her providers and therapy teams, the majority of the recovery would occur in that first year after the injury and the harder she worked, the more likely her body would repair some of those impaired nerve connections.  I wish Barb could give just an ounce of her motivation to each one of my patients, and hope her story inspires many others as it has inspired me and our Therapy department.
—Ali Meyer, PT, DPT

Need Therapy?
We Are Here To Help   |    402 443-1426 
Call us today to learn how we can help you feel better!
From speech to occupational, cardiac to physical, and respiratory to pediatric, SMC provides therapy for you. See the complete list of services offered at SMC's Edge Therapy & Wellness here.