Miracles.
Tucker & Tyler
My first baby—what awe we felt when he was born!  A healthy 7 lbs. and 15 oz., Tucker was delivered right on time.  Well, it was actually a week before his due date January 9, 2010.
At the hospital where Tucker was born, he was under the care of pediatricians and given a clean bill of health when discharged.  When he was about 6 weeks old, I was very concerned about his baby acne, so on a Sunday we went to an urgent care facility.  Because Tucker was a new patient, the pediatrician did a full exam.  Nothing was out of the ordinary and the doctor said the baby acne was nothing to worry about.  I was just being a typical new mom!  All of this was so new and we love our little ones so much!  It was reassuring to hear that all was well. 
My husband Cory and I doctor at Saunders Medical Center Family Clinic.  We decided when we were expecting that our provider, Tyler Hauswald, PA, would also be our baby's doctor.  Our first visit was at Tucker's 8 Week Well Baby Check.
We saw our provider Tyler Hauswald, PA.  He was very thorough at the appointment and answered all my "new mom" questions.  He kept checking Tucker's eyes.  We both noticed his eyes were a little crossed but that is typical for newborns. Yet, he couldn't find a "red reflex" in his eyes. He called a specialist and made an appointment for us because he said this was an urgent matter. Looking back, I see he didn't want to worry me, yet he insisted it was urgent. 
I had mixed feelings.  Was this really right?  I asked myself.  I had a happy, and I thought healthy, newborn baby in my arms! 
The specialist couldn't get Tucker in as quickly as Tyler insisted.  My husband thought immediately of a land owner that he farmed for. By God's plan, our land owner was an ophthalmologist.  Cory took a chance and called him.  His office called back right away and said come in immediately. 
"Immediately."  Oh, boy!  This may be serious after all.  What is going on?
In my many calls to determine our next steps, I received a call from a specialist who said my son would be blind.  I broke down.  BLIND?  My husband was unreachable as he was farming in the hills near Linwood.  I was at work.  My boss said - go to the Clinic and talk to Tyler.  I did.  He brought me into a patient room and I lost it.  My child might really be blind for life?  PHPV - What exactly is that?  So many emotions and questions.  Tyler counseled me through this and listened to my tears. 
A Higher Power
The day before we left for the surgery, we were invited to a rosary to pray for Tucker at St. Wenceslaus Catholic Church in Wahoo.  We knew nothing about this prayer gathering as it was being secretly planned.  The church was full.  Full of Catholics and non-Catholics.  They all came to pray for our little baby.  Our nurses.  Our doctors.  Our co-workers.  Our friends and even strangers.  I really don't know for sure who planned this, but I am eternally grateful for them and all who came to pray for our baby. 
It all happened so quickly.  I kept a journal to keep track of it all.  They believed Tucker had congenital cataracts and PHPV (Persistent Hyperplastic Primary Vitreous).  He needed surgery before he was 100 days old to prevent blindness for life.  He was already 8 weeks old.  No one in Nebraska did this type of surgery on infants.  We went to Iowa City and God had planted one of the top three retina specialists in the world to be at the surgery.  Truly, I don't know how all this worked! A Higher Power!
Tucker had unusual "floaters" that were discovered during the surgery.  It turned out he didn't have PHPV that would cause him to be blind after all.  The surgery was successful!  Tyler, our ever vigilant caring doctor, had insisted we call him the day of the surgery to let him know how it went.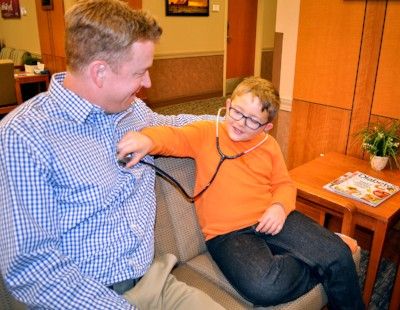 Angels on Earth
They are all around us, but often it isn't until an event drops us to our knees that we see them.  Tyler Hauswald is our angel. He was placed by God to be in our lives at just the right time.  (So was our land owner!) 
The tears return.  I am almost speechless.  I tell people all the time that Tyler is our angel.  We are so lucky he was there when we needed him.  He is UNSTOPPABLE. He will do everything he can to help our family and other families. We are so lucky this talented and caring PA has chosen to serve his community and raise his own family in Wahoo.  My husband Cory and I are so thankful for Tyler.  He treats our children as his own. He has a special place in our heart. 
We speak very highly of Tyler and have the utmost confidence in all the providers at Saunders Medical Center. If Tyler is unavailable for an appointment our family has seen other providers at the Clinic. Everyone is so sincere and passionate about what they do!  
It Is Hereditary
No one else in our family has this condition. There is a 50% chance our other children would have this. The genetic testing would tell us. Our second child, Maci, was tested at 2 weeks. She was in the clear. 
Our third child, Lucy, was not so lucky. When we went for our well baby check with Tyler, he had already received the news from our eye specialist and he silently mouthed, "I'm sorry."  I was too, but it was going to be okay. Two surgeries later for Lucy and it was.  Simply put, God put Tyler in our lives and he saved our children's sight.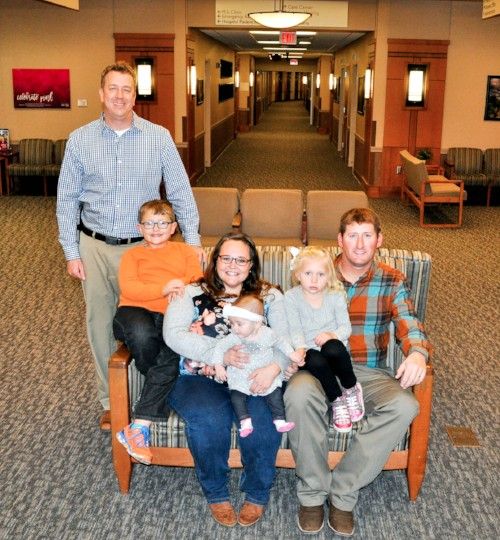 Thanksgiving
Tucker is now 8 years old and knows his story.  He knows he has special angels in his life and special eyes.  He wears contacts and glasses to help him see.  His sister Lucy wears contacts and will have glasses as she gets older. We are so thankful their conditions are treatable.
Each night we pray in thanksgiving for the angels on earth in our lives, our special eyes, our sight, St. Lucy, and for God.
My husband and I tell all our children, "God has big things planned for you!"  There were so many times we felt we were trying to be stopped but there was an answer at every turn.  It was scary and it is hard to think back.  However, I felt God's presence and His earthly angels doing His work through it all for Tucker. 
Remember that Journal?  The one I kept through it all?  One day, when Tucker is older, it will be his.  It is very personal and dear to my heart, as are each person who helped our children through this. Thank you to each of you. Thank you God for my children's vision—I will forever be grateful!  
Thank you all!

Sarah Kruse, Mom of Tucker