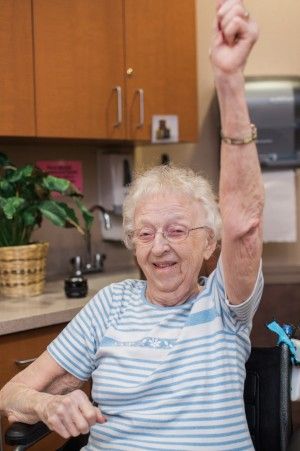 The Best Care 

for Mom!
Adeline's Story
That is what we desired: THE BEST POSSIBLE CARE for our mom. What would be the best care option, now that she was unable to stay in her home alone? All of us kids were working full time and living in different towns, but we wanted the best care for her. Many families wonder what they can do.
The solution was found at Saunders Medical Center where we offer long term care unlike any other! No need to worry about when your loved ones needs an x-ray, lab work, physical therapy or to go to their regular checkups—SMC is a connected facility offering all these resources within a single building. Our professionals are just a hallway away.
Diane (Rezac) Nickolite works at the Nebraska state capital and her husband Jack is a PA in Omaha. Diane's mother Adeline was unable to stay in her home in Brainard alone. Diane and her brother Wayne Rezac and wife Judy visited several facilities in Lincoln but chose SMC as they felt it was the best for mom. In Diane's words:
"She loved her new home! She had so many visitors and ended up knowing so many of the staff and neighbors, it was like she was at home—but better. We were at peace with having SMC caring for her.
"We loved that the nurses treated mom as their own.
"The experience that started as a great stress to all of us kids, turned out to be pampering for mom! To be honest, I wish we would have taken mom earlier. Once she was there, it was a relief for all of us, but mostly her. She didn't have to worry about the furnace in her home, warming her meals, organizing her medication, and so much more.  We also did not have to worry. It put us all at ease, knowing someone was at her side at all times.
"What was really nice is that they have so many activities—it kept her busy so she didn't have time to dwell on her challenges. From church, to baking, to bingo, to entertainment....there was something every day.
"Mom loved baking! Baking was her life! That was one of the best activities they did together. Residents  brought recipes to share. Mom even had me copy a few recipes to give to them to consider for the activity. All would participate in this social activity: measure, mix, discuss, and enjoy! They always made enough for all the residents to enjoy at their next meal.
"What was also unique is that as long as mom was feeling good, they just assumed she was going to the activity. They didn't necessarily ask. She was the type that didn't want to bother people. If they would have asked, she wouldn't have left her room. Seriously—this helped her so much, as she loved the activities!
"One of the biggest deciding factors initially for choosing SMC was that they offered primarily private rooms. After mom lived independently for so many years, I couldn't have imagined her having to room with someone she didn't know. Her private room also made it more cozy when we visited her.
"Mom was among friends and family—from the staff, to her neighbors next door, to visitors for her or neighbors. It was not uncommon for someone to visit family and start chatting with mom, then realize they knew each other!
"She was pampered at SMC. They took care of mom in a joy-filled environment!  Seriously, she loved it!"