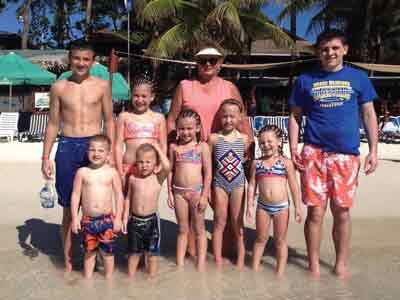 Happy Knees = A Happy Life for Donna Novotny!
I am just in my 60's and gradually it was getting harder and harder to walk. My knees were wore out. The doctor encouraged me to wait as long as I could. It was about eight months that I had difficulty walking. One day after shopping with my grandchildren and taking too much medication, in my opinion, I called Dr. Koch again.
After further review we decided it was time. I could hardly walk anymore. I attended an informational joint class meeting that answered all my questions. This was calming. They provide you with a book that directed me through the whole process. From two weeks prior to the surgery to when I started my exercise. All my questions were answered! I was ready!
I had my first knee replaced in September and the next in November....just in time for our trip. 
---
It was a wonderful, wonderful experience! They treated me like a queen! Everyone at SMC, Dr. Koch to the physical therapy team were wonderful to work with. I tell all who are hurting, don't put it off—you will feel like new again!
---
Now I can do anything! We can go! I highly recommend Saunders Medical Center for anyone needing a joint replacement. 
—Donna Novotny
Double Knee Replacement
Saunders Medical Center Orthopaedic Patient