Giving to Saunders Medical Center: Auxiliary & Foundation
Tomorrow depends on the generosity of today.
There are numerous ways you can support Saunders Medical Center's tradition of excellence in healthcare, not only for today, but for generations to come.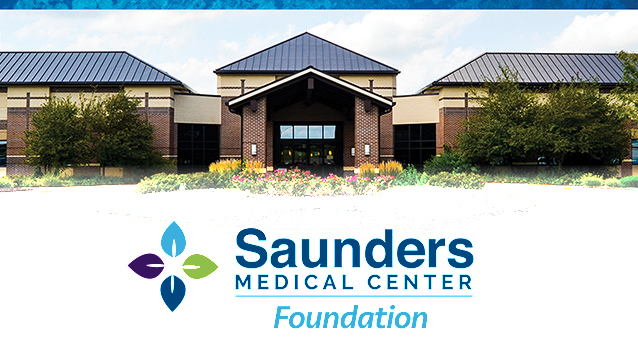 Foundation
From volunteering your time and talents to contributing a monetary gift, your resources strengthen our ability to provide the best care for the community you call home.  Two of the most effective ways you can help is through the Saunders Medical Center Foundation and the Saunders Medical Center Auxiliary. 
We hope you'll take a moment to learn about the numerous opportunities available for you to be part of Saunders Medical Center's future.
---
Auxiliary

The Saunders Hospital Auxiliary was established in 1981. Our mission is to invite community members and hospital staff to work closely together to make quality healthcare available to all. The Auxiliary Board consists of volunteers who wish to make a difference in the lives of patients, their families, and all those taking an active role in their healthcare.
Quality care is the very fabric of our region's hospital, and is the  result of hours of training, years of experience, and a hospital-wide commitment to each and every patient, including the volunteers who assist throughout the facility. The Auxiliary also works hard to financially support healthcare in our community.  
 New volunteers are always welcome!
Volunteer
We love the volunteers who bring joy and hope to so many! 
Just a small amount of your time can result in miraculous changes for the patients at Saunders Medical Center.  If you are interested in volunteering in Long Term Care, please contact us at 402 443-4685.
Attend Our Events
See our events to get involved here!