Pre-diabetes is Your Chance to Prevent Type 2 Diabetes
Pre-Diabetes Defined
Prediabetes is a serious health condition where blood sugar levels are higher than normal, but not high enough yet to be diagnosed as type 2 diabetes. Approximately 96 million American adults—more than 1 in 3—have prediabetes. Of those with prediabetes, more than 80% don't know they have it. Prediabetes puts you at increased risk of developing type 2 diabetes, heart disease, and stroke.
The good news is that if you have prediabetes, there are programs that can help you make lifestyle changes to prevent or delay type 2 diabetes and other serious health problems. Learn more about Pre-Diabetes here. 
---
Health Coaches & Lifestyle Changes are your solution for preventing diabetes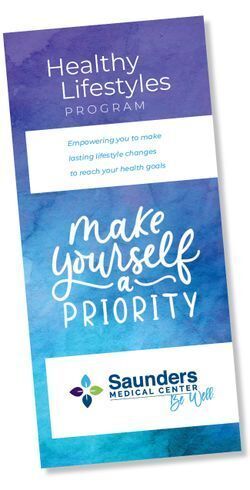 If you have prediabetes, losing a small amount of weight if you're overweight and getting regular physical activity can lower your risk for developing type 2 diabetes. A small amount of weight loss means around 5% to 7% of your body weight, just 10 to 14 pounds for a 200-pound person. Regular physical activity means getting at least 150 minutes a week of brisk walking or similar activity. That's just 30 minutes a day, five days a week.
A lifestyle change program offered at Saunders Medical Center can help you make those changes—and make them stick. Highlights include:
Working with a trained coach to make realistic, lasting lifestyle changes.
Discovering how to eat healthy and add more physical activity into your day.
Finding out how to manage stress, stay motivated, and solve problems that can slow your progress.
Getting support from people with similar goals and challenges.
---
With education and support, you can manage diabetes and change your life.