Meet Neurosurgeon Dr. Bixenmann
Dr. Benjamin Bixenmann performs minor procedures such as carpal tunnel surgery, Trigger finger, baclofen pump placement, and various joint injections in the comfort of your hometown hospital.
"I grew up in Lincoln and my grandparents lived in Grand Island but never liked to come to Lincoln or Omaha to see doctors because they didn't like driving in the bigger cities. I enjoy bringing my area of expertise to the people of smaller communities to hopefully allow them to seek treatment that they otherwise might not have."

—Dr. Bixenmann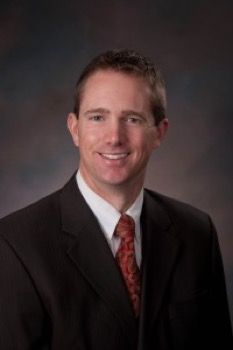 Graduating from Pius X High School in 2001, he earned his Bachelors of Science degree from Hillsdale College in 2005 graduating Magna Cum Laude. He then received his Doctorate of Medicine, with High Distinction, in 2009 at the University of Nebraska College of Medicine in Omaha, NE. He is a board eligible Neurosurgeon with Nebraska Neurosurgery Group, LLC.
He completed a neurological surgery residency at the Mayfield Clinic and University of Cincinnati Medical Center in 2015. He has also been recognized by Cincinnati Magazine in their 2015 Top Doctors issue for his innovative research on the diagnosis and management of athletic concussions.
PERSONALLY SPEAKING
Dr. Bixenmann is an avid sports fan, especially Husker sports. He enjoys golfing on his free time. You can learn more at nebraskaneurosurgery.net.
When asked why he choose the neurosurgery specialty, Dr. Bixenmann states:
"I was always fascinated by the brain and nervous system throughout school and when I got to medical school truly enjoyed surgery. So, Neurosurgery has seemed to merge these interests nicely."
APPOINTMENTS
To schedule an appointment with Dr. Bixenmann at Saunders Medical Center please call  402-443-4191.
---