Alissa Meyer, PT, DPT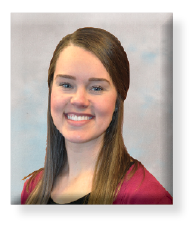 Ali (Alissa) Meyer, PT, DPT
I love the fact that Physical Therapy can truly help our patients gain greater access, independence, and enjoyment in both their daily functions and passions of life. PT allows these patients to achieve goals and return to activities that maybe they hadn't been able to do for some time. I also genuinely just love meeting new people and learning their stories and insights.
Education
Doctorate of Physical Therapy - University of Nebraska Medical Center Bachelor of Arts in Biology - Doane College
Specialty Area
• Certified LSVT BIG therapist for patients with Parkinson's Disease
• Extensive clinical experience with patients with neurological conditions, including balance disorders, Multiple Sclerosis, vestibular pathology, and Parkinson's Disease.
• Two years of volunteer experience with patients with Parkinson's Disease, Traumatic Brain Injury, and Multiple Sclerosis.
About Ali
I grew up in Omaha with my dad (who is from Wahoo, coincidentally) and attended Burke High School. As a taller than average girl, I was easily drawn to sports, and spent the majority of my childhood playing basketball and volleyball. My love for volleyball continued into college, where I began playing for the University of Nebraska at Omaha, and later transferred to Doane College. I met my husband, Bryan, while at Doane, and we've been happily married since July of 2016!
Outside Interests & Hobbies
Movies, crafting, bible study, hosting friends, being outdoors, exercising, HGTV, reading, trying new foods/restaurants, and cooking
Why Wahoo?
My dad and his four sisters grew up just outside of Wahoo and attended Wahoo Public. Some of my favorite memories as a young girl are going to the Wahoo high school basketball games with my dad, or to the mini golf course outside of town with my grandparents and cousins (I miss that place!).
I got married last summer to my husband, Bryan, who grew up in the small Central Nebraska town of Broken Bow. So, the two of us have always been excited to move into a small community to start a family, and truly get to know and trust our neighbors! Wahoo is truly the best of both worlds—the small town feel that we had always prayed for and still close enough to other family and friends in Omaha.