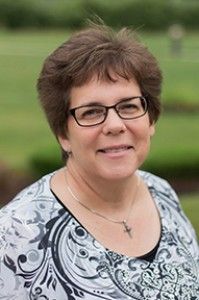 Mary received her RN Diploma from Bryan School of Nursing and BSN from Nebraska Wesleyan University. Her experience prior to joining SMC was in Lincoln, mostly Bryan and Bryan Heart, including critical care, outpatient surgery/medical, pre-admission center and cardiac cath lab. She has worked in Outpatient Surgery at SMC for over four years.
My first impressions were how friendly all the employees are and how clean the facility is. I really enjoy working in a small town hospital with many repeat clients. Working in Outpatient gives me great variety in my day to day assignments. I love the staff I work with, they are all great people.
OUTSIDE OF WORK
Growing up on a farm in South Central Nebraska sparked my love of the rural community. I now call an acreage near Malcolm home along with James, my husband of over 25 years. We have two children: Kelsey who is following in my footsteps by becoming a nurse and Jacob who is still deciding what to do with his life. We also have a grandson we love dearly—Bentley is his name!
My hobbies include reading, crosswords, sewing and my favorite, playing with Bentley.
I look forward to helping your care be the best it can be!
—Mary West, RN