Macaela Happel, RRT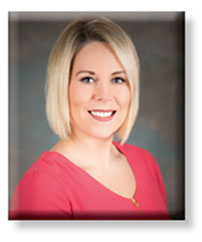 I have always had a passion for helping others. After extensive clinical ICU rotations, sleep rounds and rehabilitation, I realized that rehab and diagnostics were the areas I had the most passion for. I love the small community and getting to know each individual personally, which is something I have never been able to experience anywhere else. Saunders Medical Center has definitely made my career choice feel like home! I have never felt more excited to be a part of a team as much as I have here!
Education
Associate of Applied Science, Respiratory Care at Southeast Community College-Lincoln.
Specialty Area
PALS certified and ACLS certified
Personally Speaking
Raised in North Bend, NE. Graduated from North Bend Central in 2007. Currently reside outside of Prague with my husband Zach who is a diesel technician for Murphy Tractor & Equipment in Lincoln, son Cayden who started Kindergarten at North Bend Elementary this year, and our two dogs. Thankfully, accepting this position at SMC has allowed me to have more family time, which is always a priority!
Outside Interests & Hobbies
Kayaking, fishing, and hiking.