Bryan Meyer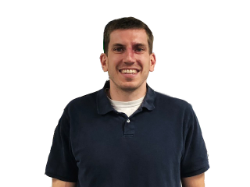 I love to see the growth and benefits of health and wellness, especially when catered to the individual needs of the community members and athletes. I'm looking forward to getting to know the SMC team further, as well as the Saunders county community!

—Bryan Meyer, Performance Coach
Education
Bachelor's in Elem. & M.S. Education (English & PE/Health)
Master's in Curriculum & Instruction
Secondary English Endorsement
Personal Life
Originally from Broken Bow, Bryan grew up playing sports and he has always enjoyed health, wellness, fitness, etc. He played basketball in college at Doane.  He comes from a family of teachers and currently teaches 8th and 9th grade English at Wahoo High School.
In his spare time Bryan enjoys: family time, reading, his Christian faith and sports.
Something that most don't know about Bryan..."Coincidentally, I had numerous accidents as a MS/HS student which repeatedly landed me in the ER. Now I know how to prevent that!"