Diabetic Care by Health Coaches at SMC
What is NORMAL blood sugar levels?  What is an A1c?  An A1c can easily be done with your normal routine blood work.  It is an average percentage of your blood sugars over the last 3 months.  It aids in your team determining your best treatment options and how well your diabetes is controlled.  An ideal goal for a diabetic would be to have an A1c of 6.5% per American Diabetes Association (ADA).
As Health Coaches, we have impacted the lives of hundreds since 2012.  We have worked with patients with an A1c as high as 12%.  After diligent teamwork with the nurses, providers and ultimately the patient, we have been able to reduce those patient's A1c to be less than 7%.  Our care often involved once or twice weekly phone calls with the patient and adjusting their medications as needed and monitoring their diet and exercise.  ​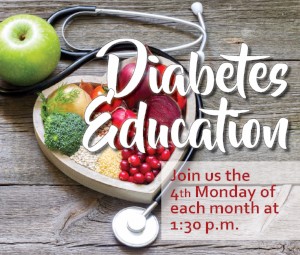 Monthly Diabetic Meetings
See the calendar for details of the next meeting. No RSVP required. Come learn what we can do. Or, ask your primary care provider for details of how a health coach could assist your blood sugar levels.