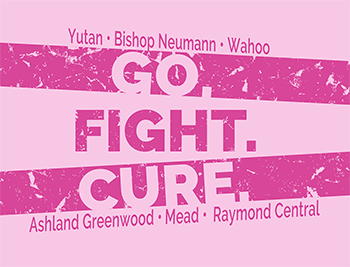 Let's work together to SAVE LIVES!
Wear pink throughout the month of October to promote awareness of Breast Cancer and the need for annual mammograms. Ask your loved ones —mom's, grandma's, aunt's and sisters if they have their mammogram scheduled. We are doing our best to change the tough statistics of Saunders County:
Compared to the national average,
• our screening rate in Saunders County is 12% lower,
• late stage breast cancer diagnosis is 15% higher, and
• our mortality rate is 12% higher.
Click for a schedule of special celebrations at the local high schools!