Dementia care is a priority for all—
Seniors facing the challenges of dementia related diseases need a safe nurturing environment. We specialize in individual programs designed to reduce the feelings of confusion, fear, agitation, and offer meaningful, enjoyable activities that stimulate the mind and body. Dementia steals away roles and responsibilities of who we are.
Our staff at SMC make critical differences in the health and well being of people with dementia. We create positive emotional memories with our residents to give back moments of joy, happiness and improved quality of life. We welcome and encourage family involvement daily. Everyone is learning together about how to engage with our resident.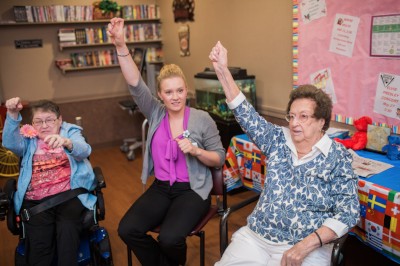 We need the input from family of past likes and dislikes and knowledge of past hobbies and interests. We in turn educate our new family members how to visit and find new moments with their loved one. Preserving the dignity and individuality of each resident, we develop plans of care that focus on his or her abilities while addressing the obstacles associated with the disease process.