Care Center Calendar
Click on the calendar above to download.
If you would like to see a full calendar of all SMC Events, click here!
---
Here's What's New in the Care Center!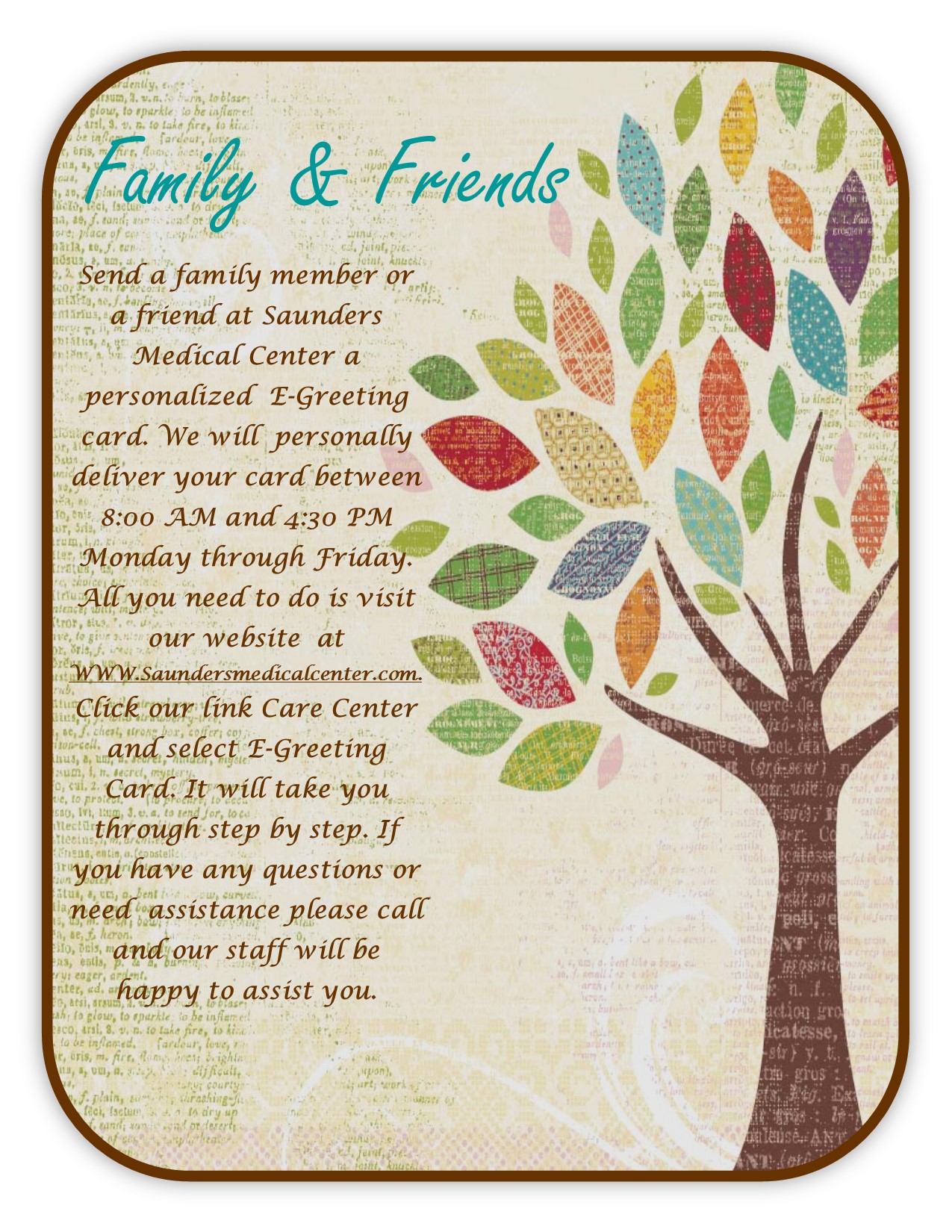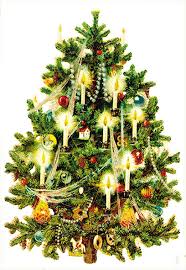 Recommended Gifts for Alzeheimer's and Dementia
Recommended Gifts for Alzheimer's and Dementia
Submitted by: National Council of Certified Dementia Practitioners
www.nccdp.org
One of the most requested information we receive from the public is
suggestions for gifts during the holiday season. We have provided a
list of suggestions to aide in gift giving.
For Dementia residents some possible gifts are:
• CD player at bedside with music of the resident's choice.
• Stuffed animals and dolls if appropriate.
• Body Pillows sprayed with the loved ones cologne or perfume.
These can be purchased at Linen and Things or Bed Bath and Beyond.
• Pretty pictures for the wall.
• Build a Bear with a prerecorded message from the loved one.
• Artificial plants. If appropriate a live plant.
• New slippers.
• Sweater
• Sweat Pants & Top
• Relaxation DVD's. We recommend www.activitytherapy.com
• Books on Tape
• A small fish tank or bowel with a Beta Fish. But know who will be taking care of it.
• Mobiles for the room.
• Knick knack's of interest to the resident.
• For men. Sports memorabilia for their room, such as pennants, baseball caps, etc.
• Perfume and cologne
• Nail Polish and Nail Polish remover.
• Money for hair appointments.
• Money for trips.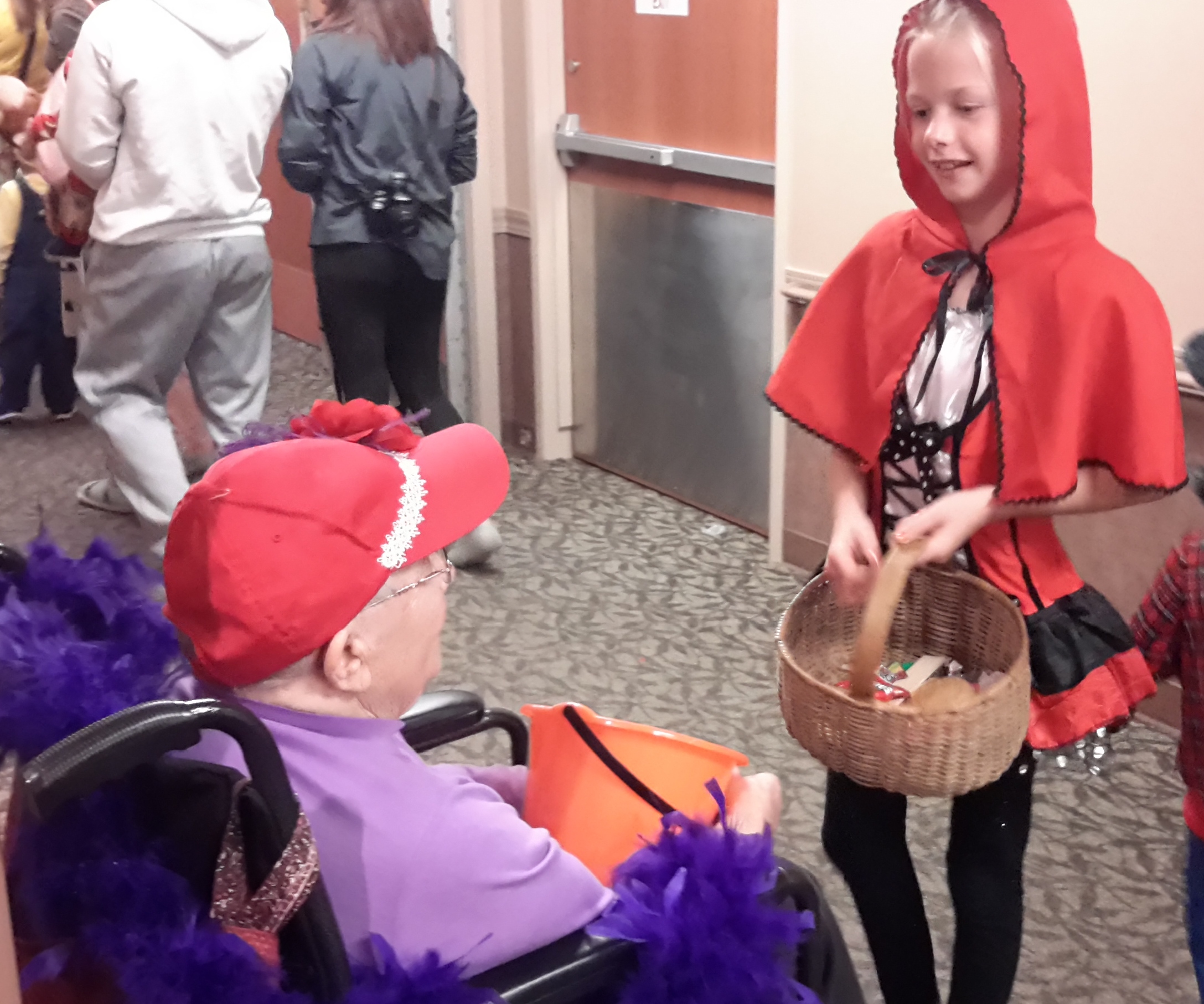 One Thousand Six Hundred Forty People.
One Thousand Six Hundred Forty people.
That is how many people who walked through our doors on Halloween afternoon. 1640 people. Not counting the volunteers and co workers who were on site to help make this year successful. Boo in Wahoo is sponsored by the Wahoo Chamber of Commerce and Saunders Medical Center. It was our third year to celebrate Halloween with the community. We not only provided treats for each child who walked by, we dressed in costume as well. We had a great time getting ready for the evening and we were exhausted the next day. We were cute kittens, sad doggies, bats, queens and princes, pirates, many pumpkins and witches lining the hallways waiting for the children to come. One family member asked if anyone was going to come when it was a little before 3 pm. I recall hearing, "When is it going to stop?" at 5 pm. If you could image handing 1640 children one piece of candy for two and a half hours. Seeing everything from a week old baby wrapped in a blanket to Godzilla, to a family of trolls and John Deere combines. The countless costumes of each participant was enjoyed and talked about for weeks.
Thank you to all the volunteers who made sure we had enough candy to hand out. The volunteers who assisted some of our residents with passing each child a candy or two. We had so much fun planning and participating in the annual Boo in Wahoo here at Saunders Medical Center. We look forward to seeing you again next year.